Pneumatic vacuum lifter for steel plate lifting max loading 1500kgs
Product Detail
Product Tags
Pneumatic lifters for handling of plate materials with dense, smooth or structured surfaces. The sturdy design, simple operation and high safety concept make the vacuum lifters an ideal partner to simplify and rationalize processes. The lifters are quickly and easily adaptable to differing workpiece dimensions and offer almost limitless possibilities of use.
The equipment can be customizedd and euipped with a column-type cantilever crane, which occupies a small area and is convenient for short-distance instensive operation.
HEROLIFT offers a complete range of vacuum lifters and vacuum lifting equipment. Including horizontal lifters, powered tilters and battery powered lifters.
Max.SWL 400KG
● Low pressure warning.
● Adjustable suction cup.
● CE certification EN13155: 2003.
● Designed according to German UVV18 standard.
● vacuum filter, control box incl start / stop, energy saving system with automatic start/stop of vacuum, electronic intelligent vacuum surveillance, on/off switch with integrated power surveillance, adjustable handle,standard with equipped with bracket for quick attachment of lifting or suction cup.
● It can be produced in different sizes and capacities according to the dimensions of the panels to be lifted.
● It is designed using high-resistance, guaranteeing high performance and an exceptional lifetime.
Serial No.

BLA400-6-P

Max capacity

400kg

Overall Dimension

2160X960mmX920mm

Power supply

4.5-5.5 bar compressed air, Consumption of compressed air 75~94L/min

Control mode

Manual hand slide valve control Vacuum suction and release

Suction and release time

All less than 5 seconds; (Only the first absorption time is slightly longer, about 5-10 seconds)

Maximum pressure

85%vacuum degree (about0.85Kgf)

Alarm pressure

60%vacuum degree (

about0.6Kgf)

Safety factor

S>2.0; Horizontal handling

Dead weight of equipment

110kg(approximate)

Power failure 

Maintaining pressure

After power failure, the holding time of the vacuum system absorbing the plate is >15 minutes

Security alarm

When the pressure is lower than the set alarm pressure, the audible and visual alarm will alarm automatically
SWL/KG: 400
Type: BLA400-6-P
L×W×H mm: 2000×800×600
Own Weight kg: 110
Vacuum generator
Control: Manual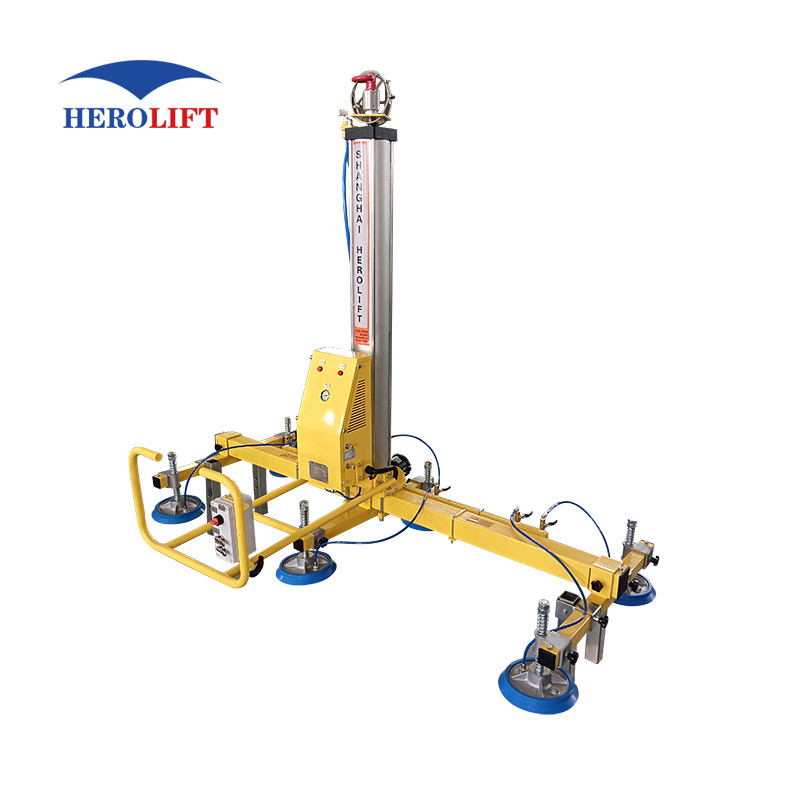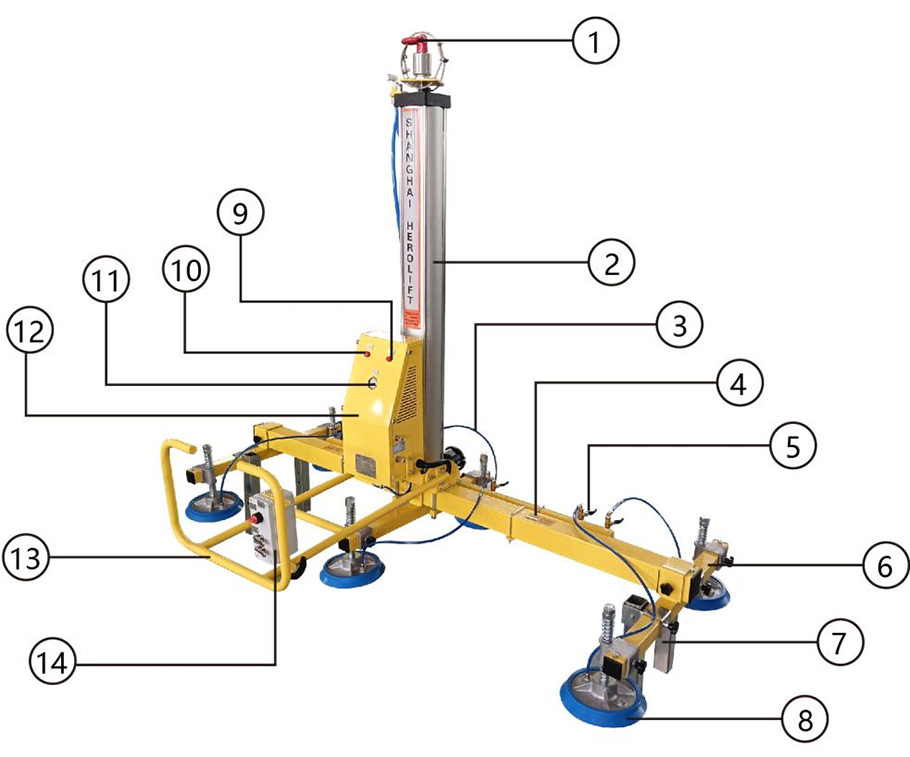 | | | | |
| --- | --- | --- | --- |
| 1 | Lifting hook | 8 | Supporting Feet |
| 2 | Air Cylinder    | 9 | Buzzer |
| 3 | Air Hose   | 10 | Power indicate |
| 4 | Main Beam      | 11 | Vacuum gauge |
| 5 | Ball Valve        | 12 | General Control box |
| 6 | Cross beam       | 13 | Control handle |
| 7 | Support leg | 14 | Control box |
Safety tank integrated
Adjustable suction cup
Suitable for occasions with large size changes
Imported oil-free vacuum pump and valve
Efficient, safe, fast and labor-saving
Pressure detection ensure safety
The suction cup position be closed manually
Design conforms to CE standard
Aluminum Boards
Steel Boards
Plastic Boards

Glass Boards
Stone Slabs
Laminated chipboards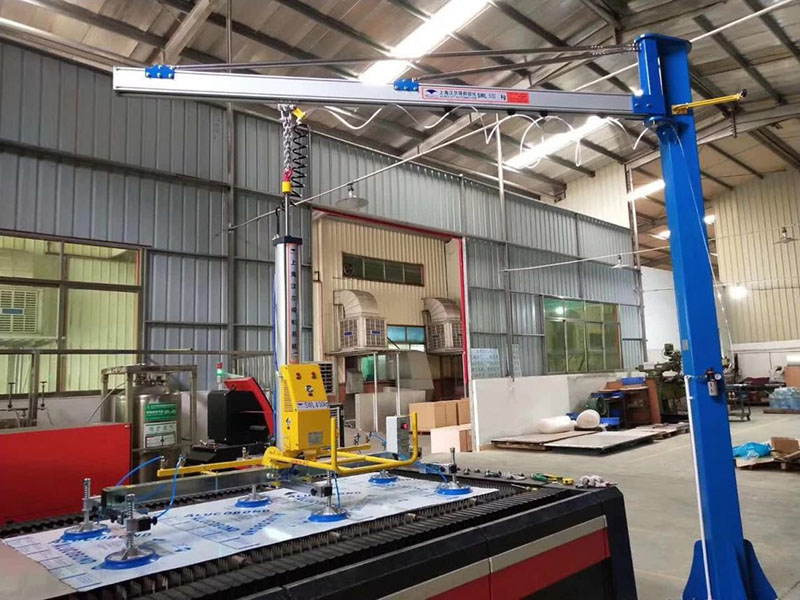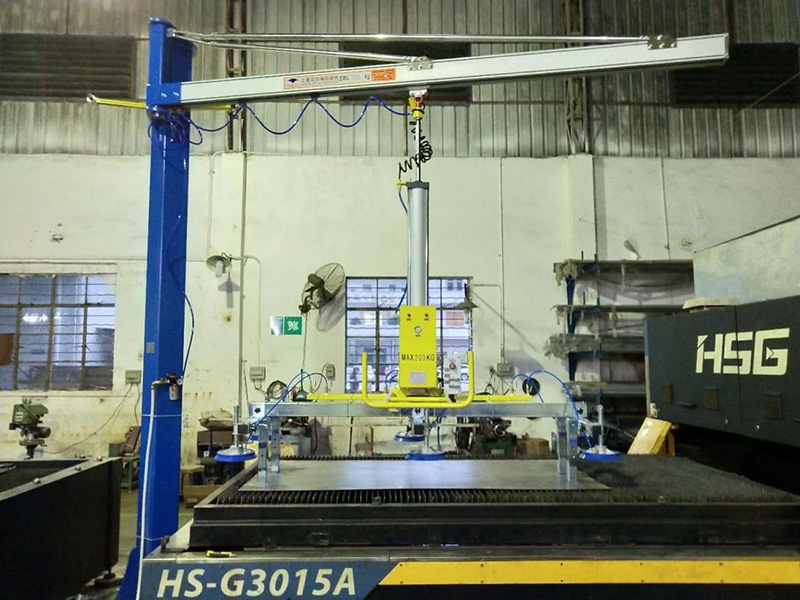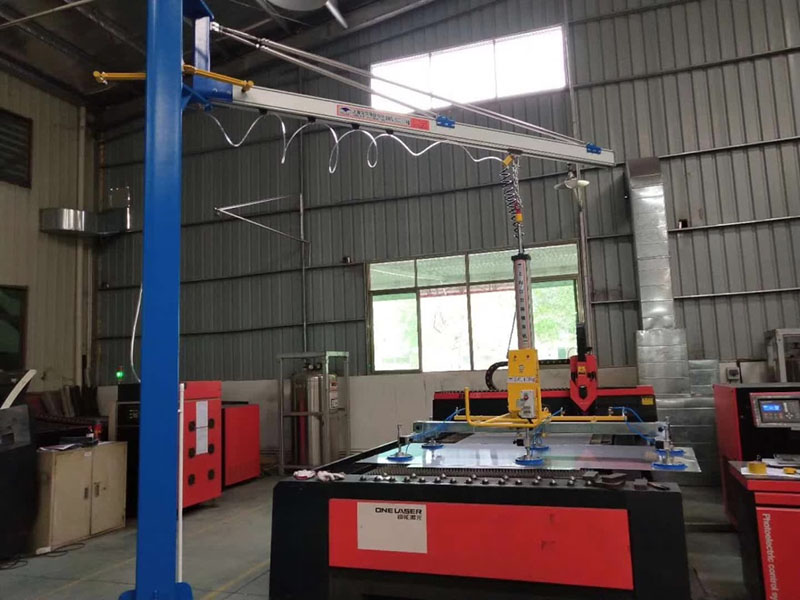 ---
---
Write your message here and send it to us